Festival of international education 'Next Station: World' travelled across the Czech Republic by train
A Five-day festival of workshops, interviews and concerts launched the new Erasmus+ and European Solidarity Corps programmes.
The Czech National Agency for International Education and Research (DZS) symbolically launched the new programme period (2021–2027) of European educational programmes Erasmus+ and European Solidarity Corps. The event, which introduced to the public a wide variety of international study and volunteering possibilities, took place in five Czech university towns (Prague, Pilsen, Liberec, Olomouc and Brno). In a specifically adjusted train, the visitors were able to follow workshops and discussions with former participants of international programmes. More interviews, slam poetry shows and concerts were prepared for the guests on the nearby main stage, The whole festival was moderated by a duo of popular actors Johan Mádr and Ondřej Havel. In each venue, hundreds of visitors found their way to the Next Station: World (Příští stanice svět).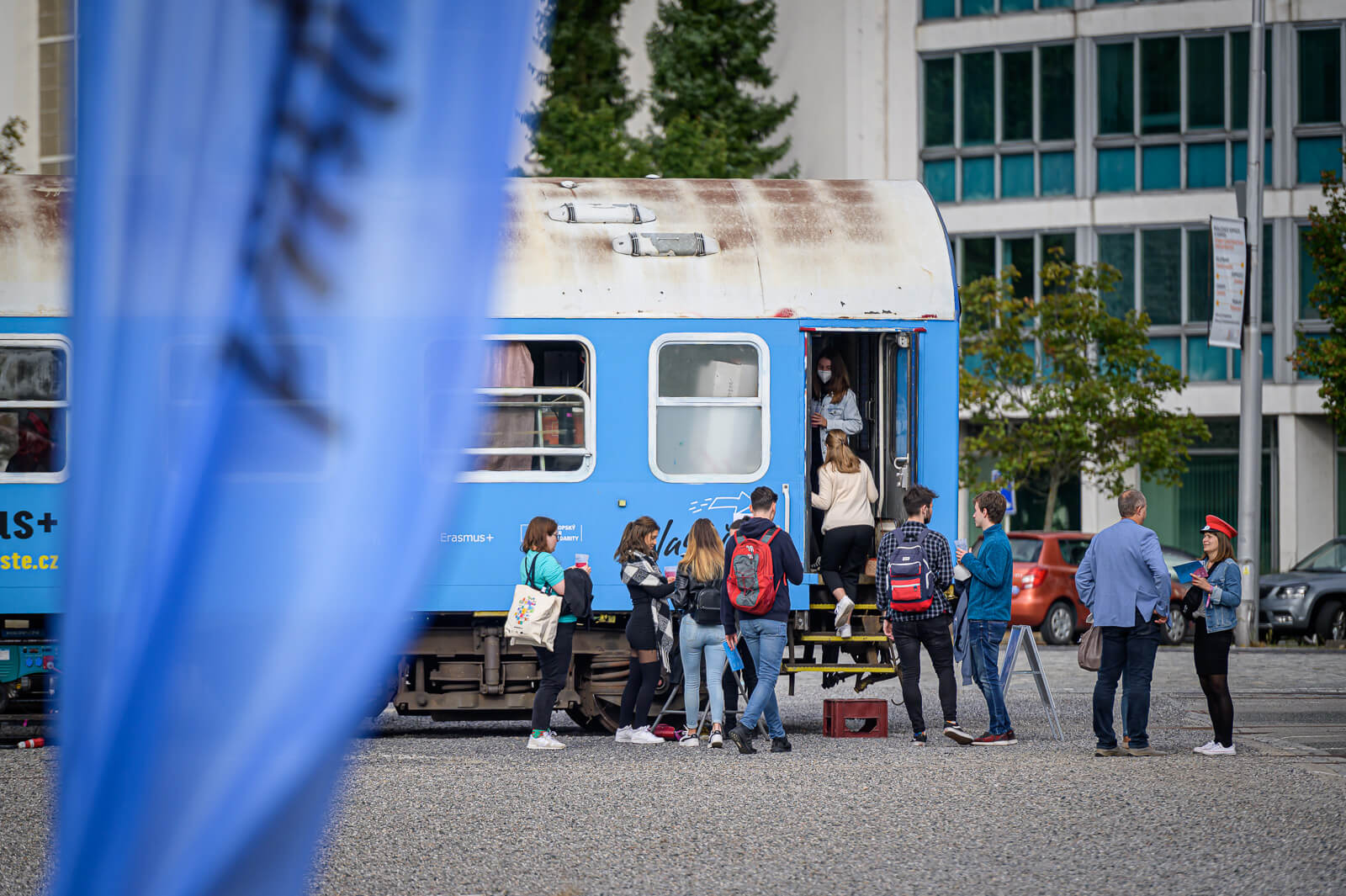 "We strived to present the new information about the programmes to as many people as possible. That's how we came up with the idea of adjusting railway carriages, using them as conference rooms and travelling with them around the country. Moreover, choosing the train as a way of transportation, was more than symbolic. One of the main priorities of both programmes is sustainable travel, and railway is one of the most ecological means of transport," explains Lucie Durcová, the head of the marketing and communication department of DZS.
"I was passing by and heard cool music, so I went to check it out. I was surprised that Erasmus+ is not only for university students, as I learnt at one of the workshops in the train," said Matěj, one of the Prague participants. Aside from practical presentations where the Erasmus Student Network Czech Republic gave tips on finding new friends abroad, the train offered also more entertaining shows. One of the most crowded ones each evening was the talk-show of popular podcast duo Buchty from Wave Radio Zuzana Fuksová and Ivana Veselková. Their guests, Erasmus+ participants, were often taken aback by their witty questions and remarks. A different view of experiencing life abroad presented the block 'Schock(ing)', where foreign students described their 'cultural shock' after arriving in the Czech Republic.
On the main stage, two slam poetry masters Tukan and Anatol Svahilec recited their poems with an educational theme. In the talk-show 'Behind borders viewed by the famous' a couple of celebrities (such as koreanist Nina Špitálníková, designer Anna Marešová or singer Thom Artway) were invited in each town to talk about their experience abroad. The drummers' band Grove Army attracted passers-by and made the participants swing in the rhythm. The evening came to a close with two concerts of different musicians and styles (Please the Trees, Ben Cristovao, Klára Vytisková, Bert & Friends or The Tap Tap Orchestra…).