Seven Schools Received the European Language Label Award
Seven schools were recognized yesterday with the European Language Label Award (EJCL) in the Great Mirror Hall of the Ministry of Education, Youth and Sport. The Award has been uplifting innovative projects in the field of language learning for 19 years. Dana Prudíková, Deputy Minister of the Legislation and Foreign Affairs section of the Ministry and Karel Kovář, Deputy Minister of Education, Sports and Youth of the Ministry were there with Dana Petrova, Director of Czech National Agency for International Education, to present the awards.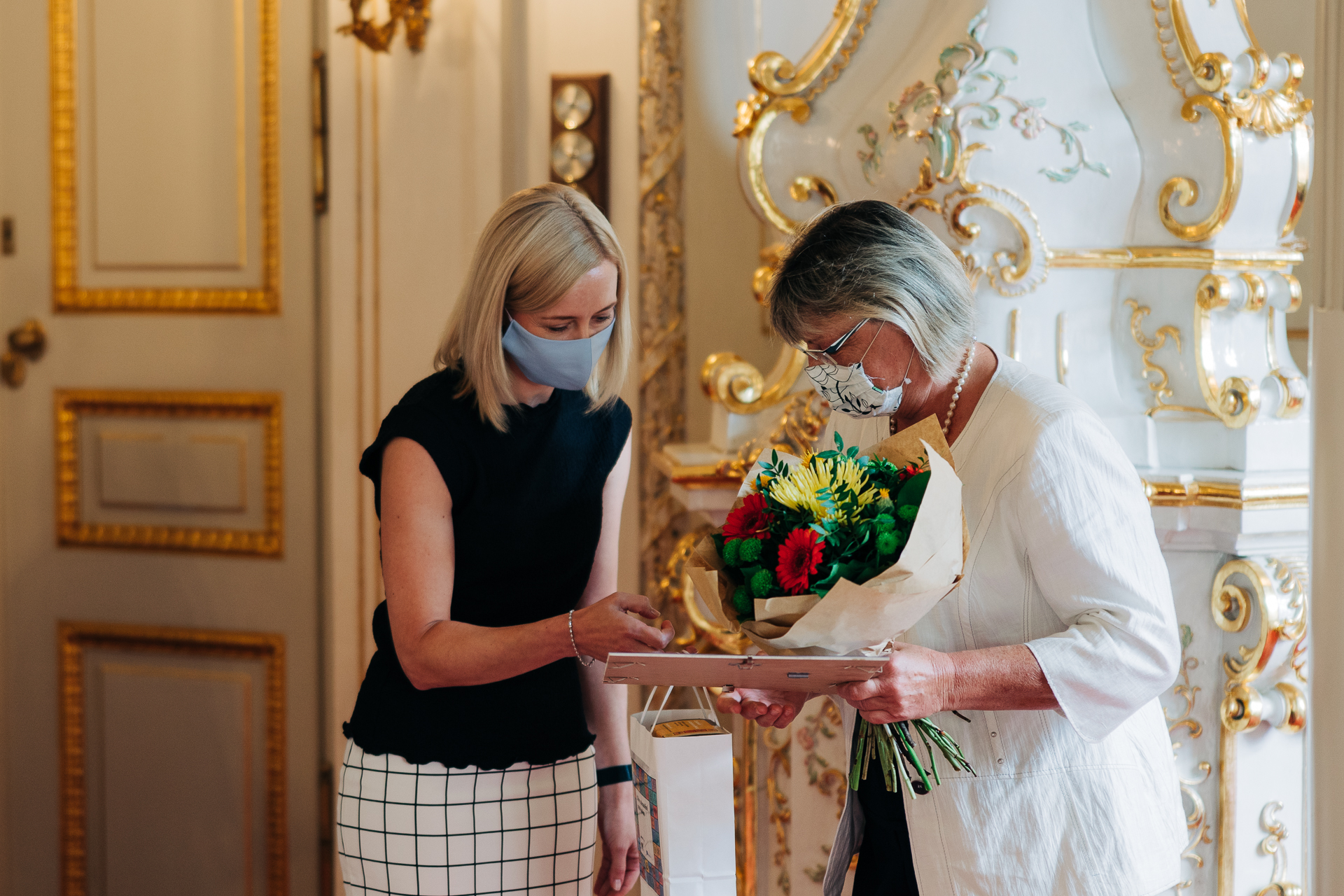 Panel of experts had 46 registered projects to choose from this year. Thirteen made it to the second round, and 7 winners were selected. The award recognizes projects which use innovative ways to motivate students or teachers to improve their language capabilities. EJCL's priorities for 2020 – improving access to linguistic diversity and developing inclusion in schools, supporting language learning with the aim to remove language barriers in the border regions, supporting language education as a part of life-long learning , and using foreign languages means of acquiring and expanding other necessary abilities and skills  – were taken into account in the decision process.
The goal of the European Language Label Award is to support exceptional, innovative projects in the field of language learning, lending them publicity in the process, inspiring more teachers to incorporate new aspects in their lessons, and to overall raise awareness about language learning.
The European Language Label Award Winners in 2020:
Digital Teaching in natural scientific subjects
Střední odborná škola a Gymnázium Staré Město
The project explored the possible uses of mobile phones and tablets for learning during science lessons. Pupils of the partner schools developed educational mobile apps together and led workshops in English. The outcome of the project are freely accessible materials for teachers of science subjects, including links to useful applications.
Erasmusic+
Základní škola a Mateřská škola Červený vrch, Praha
The aim of this project was to improve language capabilities of teachers and pupils using music and culture of partnered countries. The pupils sang song in different languages and expanded their vocabulary and learnt to feel the intonation of the languages, their rhythm, sentence structures, and phrases.
Enchanted Forest (Kouzelný les)
Základní škola a Praktická škola U Trojice, Havlíčkův Brod
This project was developed for kindergarteners, primary school pupils and students with multiple severe disabilities. It encouraged communication in Slavic languages – Polish, Slovak and Czech and aimed to not only develop language capabilities, but also cooperation and creativity. Children introduced their partners with the enchanted forests of their homelands during shared tasks, presentations, lectures and online meetings, and learnt about tolerance and multicultural solidarity.
Language Skills of Deaf Students for EU Mobility (LangSkills)
Masarykova univerzita, Středisko Teiresiás
The project focused on language learning of university students with hearing impairment. The outcomes include e-learning courses and summer schools using experiential learning. Some activities are also aimed at teachers: it develops teaching materials and makes opportunities for educators to meet and share experiences.
Math Exercises for You
Vysoká škola báňská – Technická univerzita Ostrava
The aim of the project was to improve mathematical skills of high school students as well as the knowledge of English used for maths of students and teachers. An educational portal Math for You (Math4U) focusing on high school math curriculum was developed, a summer math workshop for students of partnered high schools took place, as well as shadowing, and training on English for Math for teachers of partnered high schools.
ProFit for Profession – Working on Language and Expertise During Studies
(ProFit v profesi – jazykovou a odbornou senzibilizací během studia)
Technická univerzita v Liberci
The Foreign Languages Department of the Faculty of Economics at the Technical University of Liberec conducted this project together with University of Applied Sciences Zwickau, aiming to improve the chances of their students on the labour market. Summer courses and workshops with guest lecturers were organized. The outcome of the project was a joint publication focused on regional topics which language teachers of both regions can use.
Czech Language Training for Local and Federal German Police
(Výuka českého jazyka pro zemské a spolkové policisty ze SRN)
Vyšší policejní škola a Střední policejní škola Ministerstva vnitra v Praze
The project was developed to support Czech language education of German police, with focus on inclusion of police terminology. Courses were supplemented with joint classes with Czech police where participants could share their professional experiences.
More information about the European Language Award.