Seminar about embracing diversity. Connecting teachers and promoting inclusion in education
Participants learned more about inclusion and integration in Erasmus+ projects at an international seminar in Prague.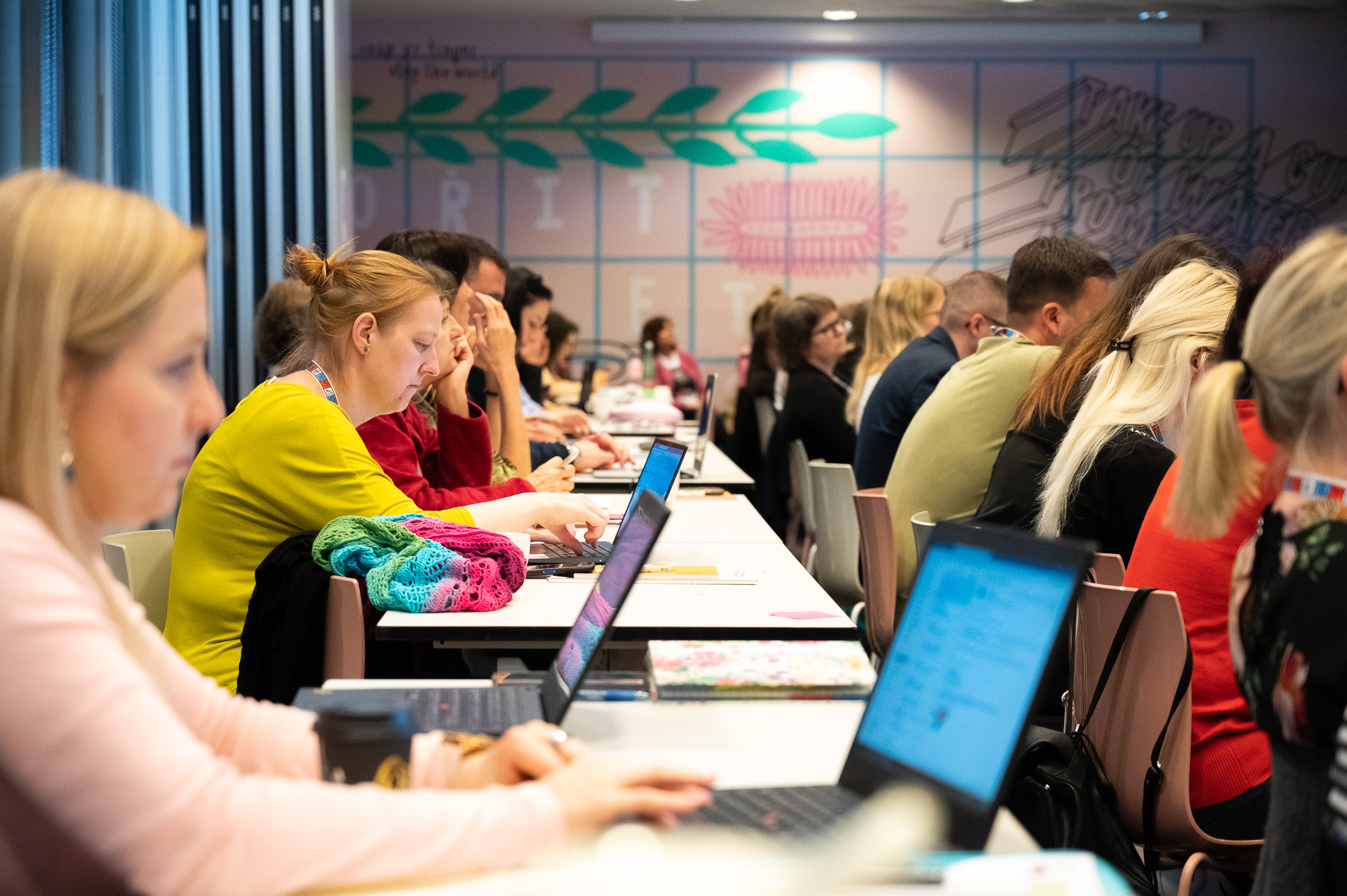 From 16 to 19 May, an international seminar titled Embracing Diversity - Inclusion in International Projects was held at the Mama Shelter Hotel in Prague. Over 50 participants from 14 European countries took part in the seminar, which was organised for representatives from primary schools, grammar schools and secondary vocational schools. Representatives from several NGOs - People in Need, Fair for Family and SOFA - Society for All - were invited to speak at the seminar, which was held entirely in English. In addition to expert presentations on inclusion, the event offered teachers a space for networking with fellow international colleagues and for debate during numerous group activities and workshops. In them, they shared their knowledge and experiences on current issues in education, such as staff shortages, motivation during and after a pandemic situation, lack of funding or teacher-parent communication.
This topic was opened by Adéla Pospíchalová from People in Need. "We have recently been though the entrance exams for high schools. There has been a lot of pressure on children in general, and especially on children from less affluent families who cannot support them with, for example, preparatory courses, and are not as interested in education. This is very limiting for these children and in turn pushes them lower in the education system." She hopes that the workshop will help teachers to work better with the specifics of the backgrounds from which children come, and that some demands (e.g. in terms of materials) are a big barrier. "We need to be aware of this, and adapt to it. Only then will we be able to work better with the pupils. The children don't have much room to manoeuvre, and they need support from their teacher." To support teachers and their assistants, People in Need offers an online course, Together for a Better School, in addition to a whole network of assistance. This introduces the causes and consequences of social disadvantage in education, and how to work effectively and unobtrusively with pupils' families.
What makes school a "good school"?
The topic of what it means to have a good school and what the principles of good education are, including inclusion and diversity, was addressed by Barbara Dobešová from the Fair School Project. "This event is an opportunity for teachers to network and share experiences, including good practice and problems that schools have. We at the Fair School project emphasise relationships within institutions should be based on trust - this is the foundation for learning and growth, and is tied to the wellbeing of the teacher themselves. Connecting through Erasmus+ promotes the idea of diversity, it opens our minds and we enrich each other." She sees the mental health of both children and teachers as one of the most pressing issues of our time. "I am working with MUDr. Tatjana Horka, a psychiatrist and psychotherapist, on a mental health programme for teachers. I would like to make an appeal to step away from technical or other issues, for example, and try to create space to embrace the uniqueness of students and teachers, and open up discussion about what we need to teach better."
Klára Kujanová from the non-profit organisation Society for All, z.s. (SOFA), also called on participants how important it is to take care of yourself before you can take care of others. "We, as well as students, want to feel valued, safe and have a sense of belonging. Why don´t we focus more on ourselves? Let´s try it, even small steps count." For 12 years, SOFA (formerly known as the Czech Professional Society for Inclusive Education) has aimed to help the weak and to be expert partners to the strong. It also offers employees in education and social services a training program focused on understanding the needs of children with traumatic experiences. "We strive for a society where quality education is accessible to everyone, where people feel good and have the chance to maximise their potential. For me, this approach is not only about understanding the needs of our students, but also about understanding and taking care of our own needs," summarized Klára Kujanová. She is a part of a multidisciplinary team of experts, and in her speech she stressed the need for a system that does not forget anyone.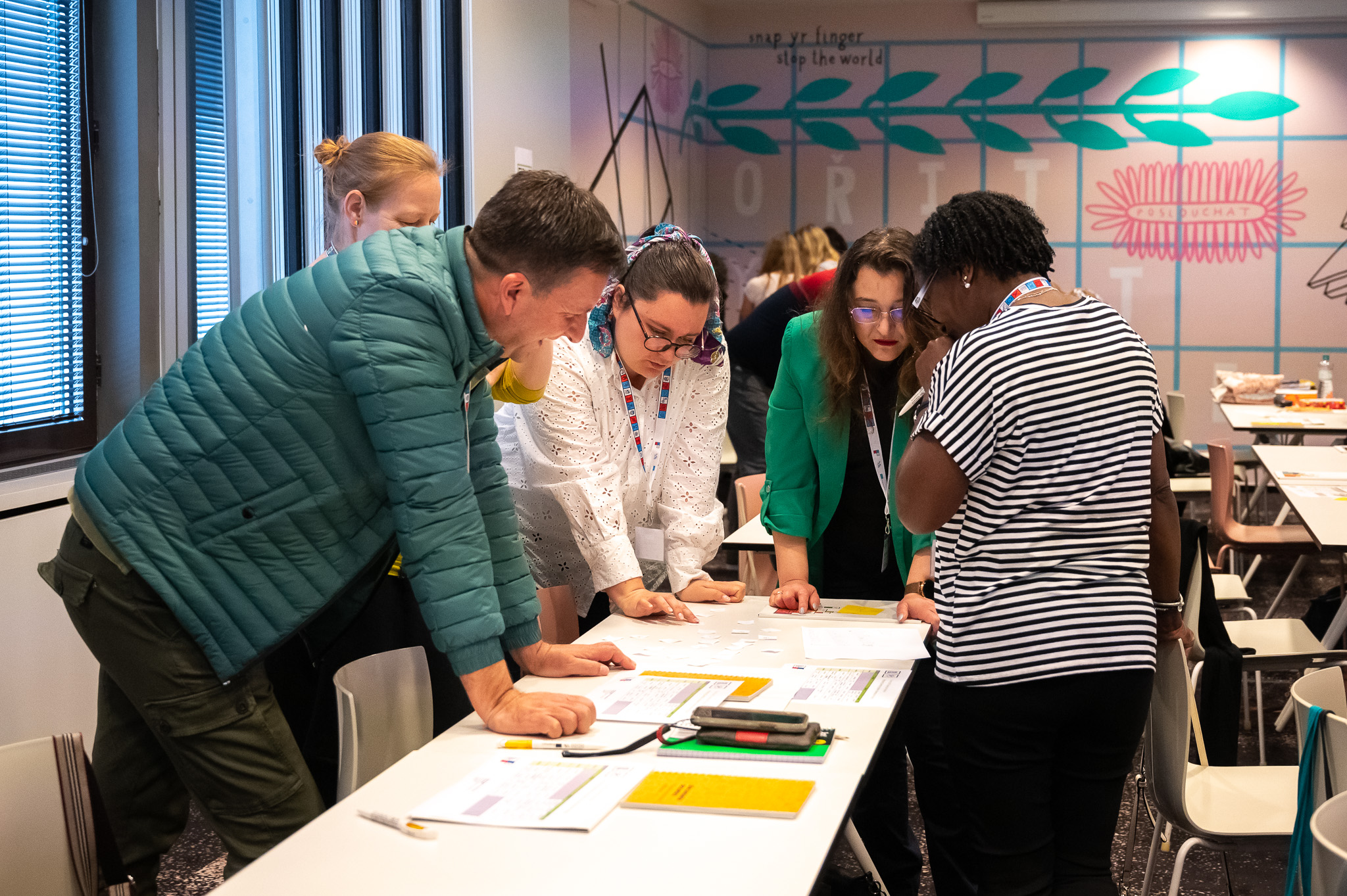 A system for everybody
The need for an inclusive system, and to harmonise understanding not only for the pupils but also for the teachers themselves were the most discussed topics among the participants themselves. They formed small "Erasmus+ teams" made up of participants from several countries, and together they created projects on inclusion, either as individual mobility projects or regarding cooperation among organisations and institutions, and presented them to other colleagues. In doing so, they were inspired by the example of good practice on Erasmus+ and inclusion from the Jan Blahoslav Gymnázium in Ivančice and the Marjánka Primary School. Both schools are active in the Erasmus+ programme and focus on the inclusion of pupils with different mother tongues. At the Jan Blahoslav Gymnázium, they developed a buddy system, where each such pupil is assigned a classmate as a mentor. The Marjánka Primary School focuses on teaching Czech as a foreign language.
Rosmarie Parzer, an Austrian teacher from a school in Münzkirchen, gave us an insight into how she approaches inclusion in practice. "The topics of integration and inclusion are very important to me and are not just empty words in our school, but can be found in our daily work in the form of various projects. For example, I am currently leading a project with an institution that helps people with special needs. We are looking for ways to improve in the area of inclusion and to get international exchange opportunities for our students with special needs."
The seminar was also beneficial for representatives from vocational schools. A total of 500 pupils study at the school of Michaela Mutl from the Upper Secondary Vocational School, Grammar School and Secondary Vocational School of Arts and Crafts ("Akademie") in Světlá nad Sázavou. "There are future blacksmiths and goldsmiths, jewellers, glassmakers, painters, sculptors, ceramists and many others. This huge diversity of choice attracts many students from different backgrounds, including students with disadvantages, because arts and crafts are very universal. In addition, a large number of Russian, Kazakh and Ukrainian students study at our school. Therefore, we would like to learn more about how to better incorporate diversity into our Erasmus+ projects."