The European Commission launched the online European Education Area Portal
The new portal offers information about education in Europe, events calendar, useful links and also statistics.
The aim of the European Education Area is to help member states to cooperate and support the development of education on all levels. This week the European Commission launched the new online portal, which serves as a one-stop-shop for all information about the European Education Area and about education in Europe in general.
The portal is divided into several sections, in which everyone who is interested in education will find something for themselves. You will find information about the European Education Area as such, including links to relevant strategy documents and information on working groups working at European level in this area.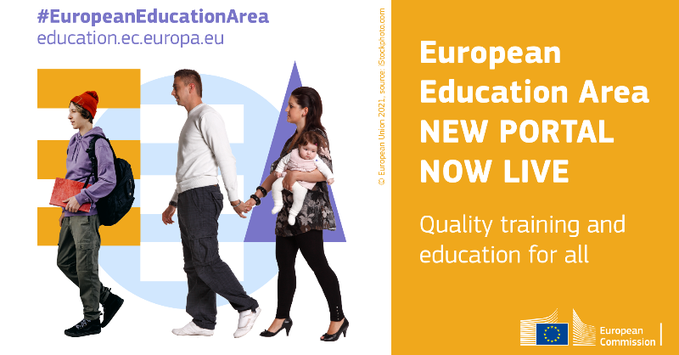 Five priority areas for european education   
If a specific topic or a specific level of education is important to you, you can find out on the portal what is happening in the given area. The specific levels of education begin with pre-school education and continue through school education, vocational education and higher education to adult education.
Within the thematic areas, you will find 5 priority areas that Europe wants to focus on in the coming years – improving the quality of education (including inclusive education for all); development of teachers and educators; development in the field of digital education; development in the field of green education and, last but not least, the topic of European cooperation with the world. 
The portal also includes an overview of news and events that are currently being prepared in all the above-mentioned areas. You will also find useful links and documents, including links to platforms that support and develop education, such as eTwinning, School Education Gateway, EPALE, Erasmus Mundus Association, the Digital Education Hub and more. Those who are interested in statistics in the field of education will also find useful information there. 
If you are interested in any of the activities, you can also find information on the portal about the funding opportunities offered by the European Union and how you can get involved in each activity.