EU will support regions challenged in training, retaining and attracting talents
The EC will help regions in a "talent development trap". Read about new initiatives, booster mechanism and pilot calls in 2023.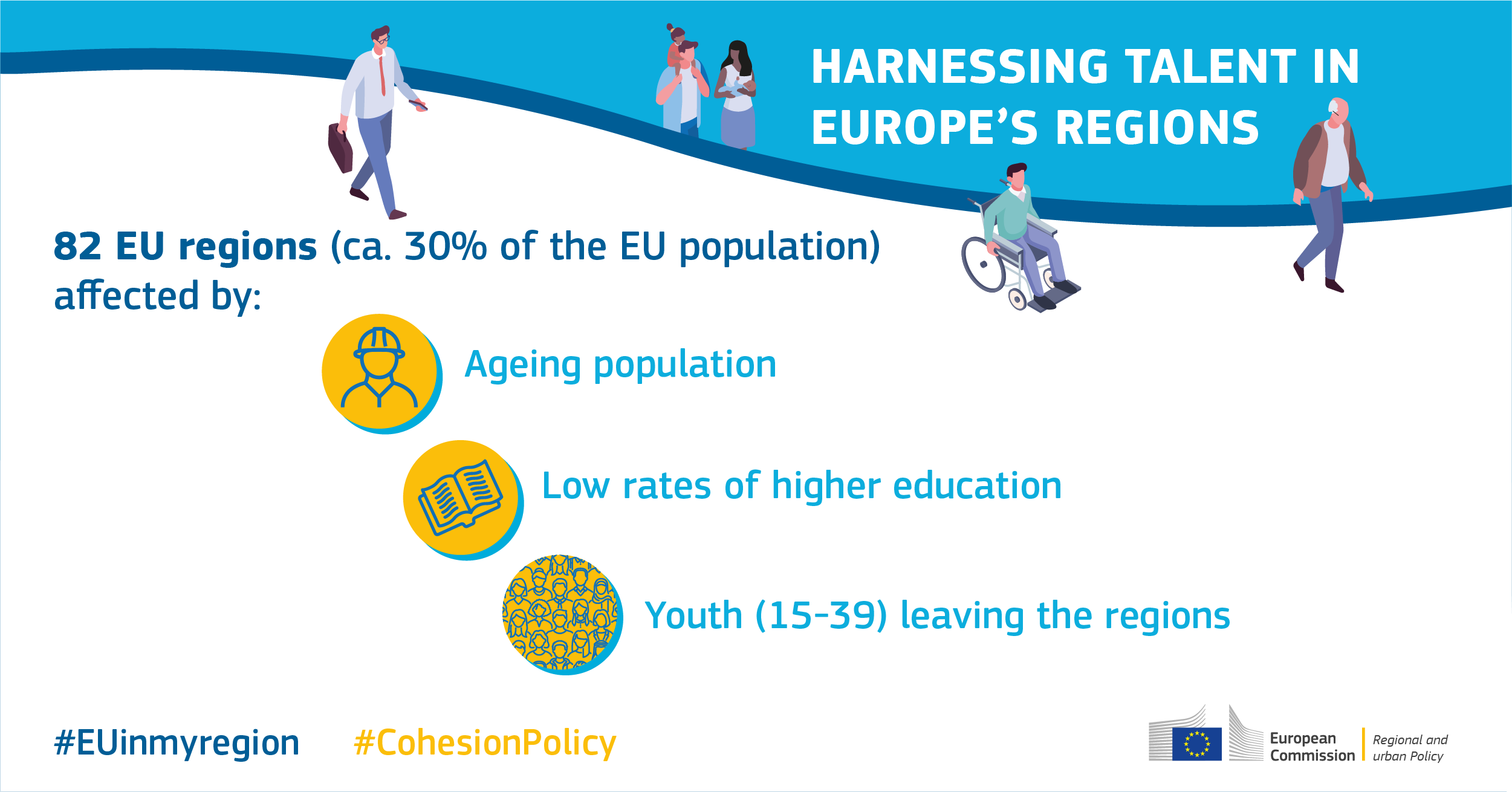 The European Commission's new Communication on Harnessing Talent in Europe's Regions is the first key initiative in 2023 contributing to the European Year of Skills. The Communication contains local, tailor-made, and multidimensional solutions (including the use of existing EU funds and initiatives) to assist European regions affected by declining working-age population in attracting and retaining people with the skills and competencies required to address this situation. The Communication is also reflecting key findings of the Report on the impact of demographic change, that was pubslihed on 17 January 2023 as well.
In the Communication, the Commission identifies 46 most affected regions, that are already in a talent development trap. This can significantly endanger the longterm prosperity of such regions. Two Czech regions (NUTS-2 level) belong to this group: Northwest (Karlovy Vary and Ústí nad Labem Region) and Moravian-Silesian (Moravian-Silesian Region). Another 36 regions are at risk of falling into a talent development trap in the future.
New Talent Booster Mechanism
On this note, The Commission will develop the Talent Booster Mechanism based on 8 pillars: 
The pilot project, which will be launched in 2023, will work to create and implement comprehensive yet individualized strategies for the affected regions. Finding specific projects with an emphasis on training and the attraction and retention of qualified workers is another one of its objectives. Pilot regions will receive support based on an open call. 
A new initiative "Smart adaptation of regions to demographic transition" will also be launched in 2023. This initiative focuses on regions with a high rate of youth outflow so that they can adapt to the new situation through local policies. Regions will receive support based on an open call. 
The member states will receive assistance from the Technical Support Instrument (TSI) as part of the 2023 call for the reforms that will be required to deal with this situation. 
Cohesion Policy programmes and the Interregional Innovation Investments will support the creation of skilled jobs that will contribute to retaining and attracting new talent. 
The European Urban Initiative will issue a call for local solutions managed by cities experiencing population decline.  
All EU initiatives supporting talent development will be published on a dedicated website. Regions and other stakeholders will have comprehensive information on research and innovation, education, training and youth mobility. 
To share best practices and exchange experiences, regions will be able to form thematic and regional working groups. Additionally, groups will concentrate on territorial or professional issues. 
The development of analytical expertise will continue in the areas of regional development and migration. 

Erasmus+ and Horizon Europe can also help boost talent
The Communication also includes examples of national and regional initiatives and best practices and emphasizes that Cohesion policy will continue to assist affected regions. Finally, the document discusses how existing EU instruments and policies can also help with skill development and economic recovery (for example, using the European Semester or the new European Innovation Agenda, which includes the Deep Tech Talent Initiative). 
Regarding the skills development, the Commission mentions the Erasmus+ programme as well. Centers of vocational excellence and Alliances for Innovation can play an important role in particular – these projects link together education with the world of work and support the development of deep-tech skills and entrepreneurial thinking. The Horizon Europe programme can help brain circulation across different regions of the EU – for example by providing fellowships in a widening countries to excellent researchers who could not be funded under the MSCA.
More information is available in the press release of the European Commission.