DZS Travel Exhibition Presents Erasmus+ and European Solidarity Corps to the Public
The exhibition travels to all regions of the Czech Republic.
This year, a new period of the European education programmes Erasmus+ and European Solidarity Corps was launched with several innovations and new opportunities to gain international experiences. The Czech National Agency for International Education and Research (DZS) has prepared a new panel travel exhibition that introduces the supported activities to the public.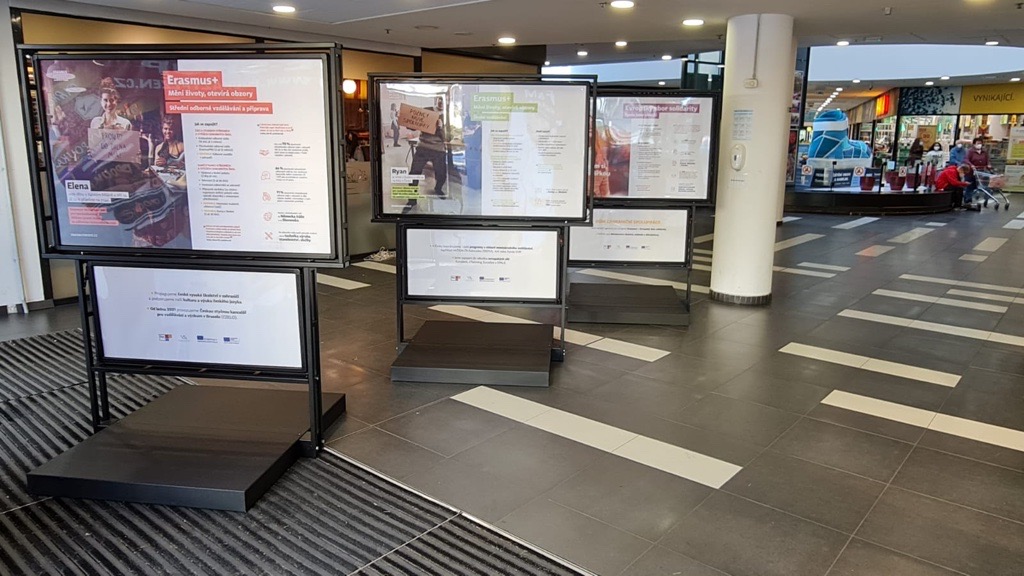 Discover the world of international education
It may come as a surprise to some visitors that the programmes are not only meant for higher education students; on the contrary, young people, regardless of their education status, can study, work or volunteer abroad. Age does not need to be an obstacle either – teachers, NGO employees and many others are able to study abroad as well.
Information you can touch
Apart from the information panel, visitors can interact with a touch screen kiosk and visit special websites erasmusroste.cz and evropskydobrovolnik.cz and find out more about these programmes.
 Competition for Visitors
 On the first day of the exhibition in each city, a competition is held. All visitors can win prizes by answering several questions on the Erasmus+ and European Solidarity Corps programmes. The right answers are immediately rewarded with a modest prize, and the winners can sign up for a final draw for a gift basket.
Traveling around Czechia
The exhibition began its journey around the Czech Republic at the beginning of September in Pilsen, Liberec and Olomouc in local shopping centres. It then moved to České Budějovice, Prague, Hradec Králové a Zlín and other regional capitals. It stays in each city for about two weeks. You can find the schedule under this article.