CZELO invites you to the Science Café on Cancer Prevention
The guests will be Kateřina Šédová (founder of the Loono) and Nina Formánek Jaganjacová (founder of the Sifty 52).
Czech Liaison Office for Education and Research in Brussels (CZELO) and its partners invite you to the next edition of the Science Café, which will take place on International Women's Day 8 March 2023 at Prague House in Brussels. This time, the guests will be Kateřina Šédová a Nina Formánek Jaganjacová. 
The topic of the discussion will be cancer prevention. Thanks to significant improvements in medical practices, societal conditions and our understanding of health in general, Europeans have been living longer and healthier lives over the past century. However, cancer continues to wreck lives, affect families and put a heavy burden on our health and social systems. European data suggest that by 2035, there will be a 24 % increase in cancer cases, making it the EU´s leading cause of death. Despite excellent research and numerous initiatives at the EU and national levels of Member States, data show that approximately 40 % of cancer cases are preventable. As a result, sufficient cancer prevention, which is still lacking in many Member States, is a critical component in the fight against cancer.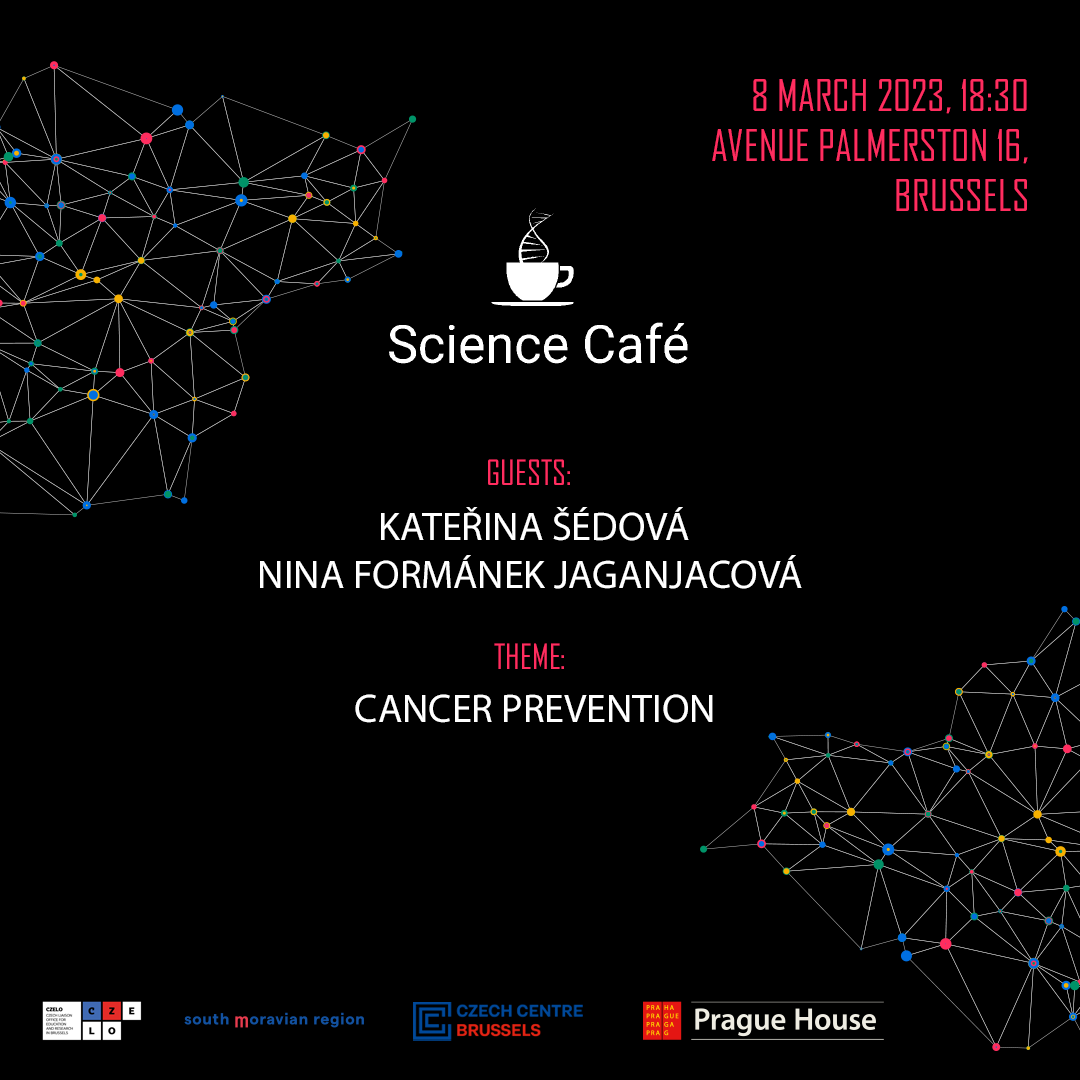 Kateřina Šédová graduated from the First Faculty of Medicine at Charles University in Prague and Harvard Medical School. In 2014, after her own cancer experience, she founded a non-profit organization Loono with the mission to motivate people to think about their health. Thanks to her contribution to the field of prevention, she was listed in 30 under 30 by Forbes Magazine, received an EU Commission Health Award for her Cancer Prevention Campaign and became one of the Leaders in Aspen Institute CEE as well as of the Young Transatlantic Innovation Leaders Initiative. In 2021, Ernst & Young named her the Social Entrepreneur of the Year. 
Nina Formánek Jaganjacová graduated from the London School of Economics and Political Science. She is a Sarajevo native who grew up in Prague as the daughter of two doctors. She focuses on healthcare from the perspective of social policy and international development and has experience in the health sector from the European Commission in Luxembourg, the HIV/AIDS office of UNICEF in Kazakhstan and from the United Nations Headquarters in New York. She is the founder of the organization Sifty 52 and the author of the book Příběhy o rakovině (Cancer Stories), which was created as part of the #příběhyo project. 
You can register for the event via this link. Science Café is jointly organized by CZELO, Czech Centre Brussels, Representation of the South Moravian Region to the EU and the Delegation of Prague to the EU.