Benefits and challenges of co-funded Cl. 6 partnerships
V4 conference opened with policy and science pannels. Matchmaking event will follow.
The Hungarian National Office for Research and Innovation, together with the Czech Liaison Office (CZELO), the Polish Science Agency (PolSCA) and the Slovak Liaison Office (SLORD), organized a conference on "Benefits and challenges of participation in co-funded partnerships" on 13 June. More than 150 participants gathered at the Permanent Representation of Hungary to the EU and online. The conference was divided into two panels. Lucie Núñez Tayupanta, head of the Department for the European Research Area at the Ministry of Education, Youth and Sports, accepted the invitation to the policy panel. For more, Associate professor Roman Grabic from the University of South Bohemia in České Budějovice presented the BIOCIDE project, in which the team from the University of South Bohemia carries out analytical activities.
The conference was opened by the Hungarian Ambassador Gábor Baranyai, followed by the main presenter Maria Leek from the European Commission. In her presentation, she focused on the recently published Monitoring Report on Partnership Performance under Horizon Europe and on the planning of future strategies within emerging partnerships. She also provided information on an emerging initiative to exchange information and good practice between the partnerships. The introductory presentations were followed by a political panel in which representatives of the V4 countries discussed the added value of participating in partnerships, possible synergies and mirror groups for partnerships at national levels.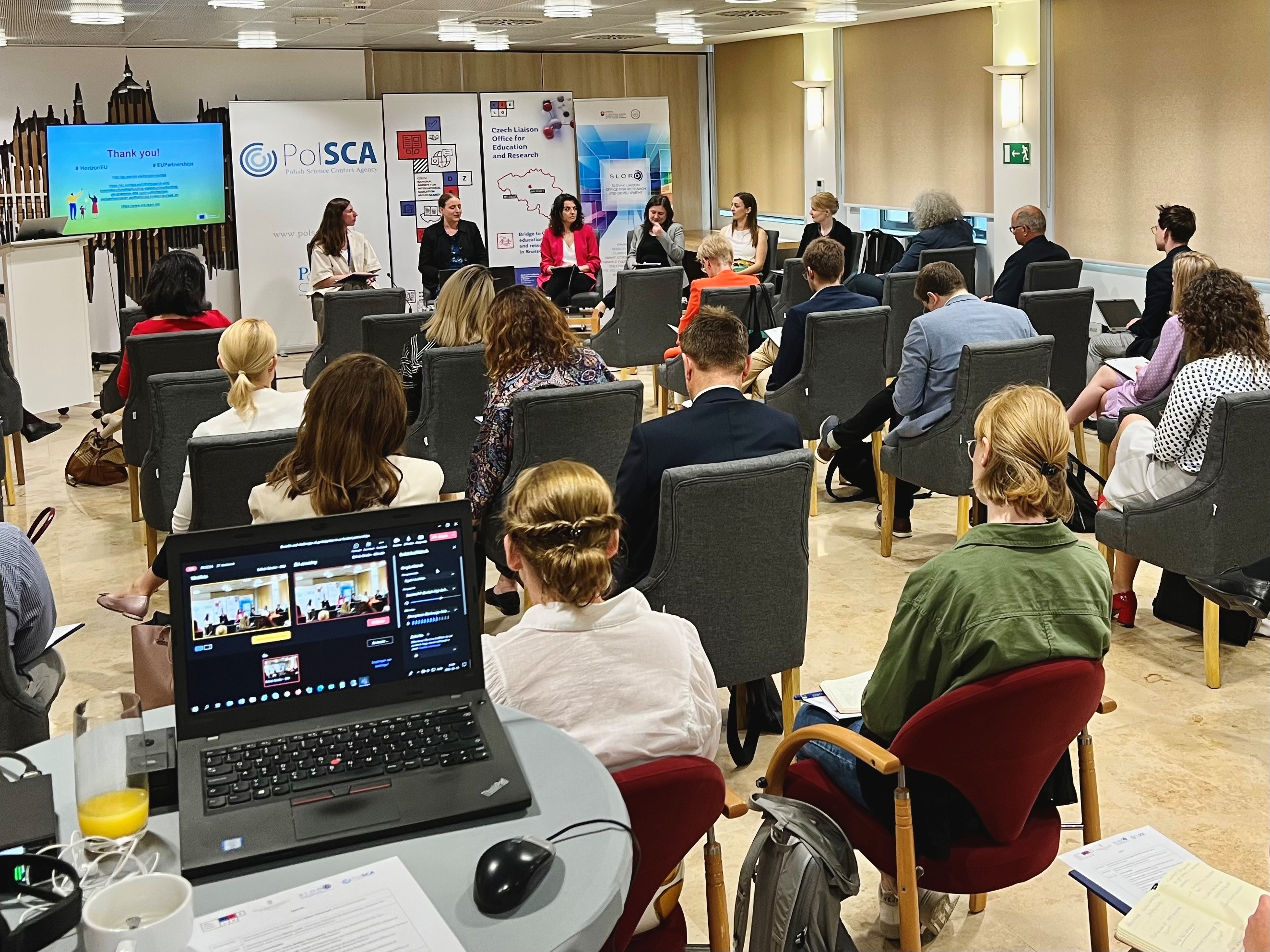 As the second presenter, Margareta Olson from the European Commission presented the recommendations for the partnerships and their work programs for 2023-2024. She also drew attention to the launch of new calls, which will be opened in early 2023 as part of the four partnerships in cluster 6 that are currently being set up.
Before the discussion in the second part of the conference, individual scientists from the V4 countries first presented their projects and problems in their setup. In the discussion panel, they emphasized, in particular, the importance of support staff, which is necessary for a proper understanding and submission of applications to partnership calls. They also mentioned the need for better coordination, for example when setting criteria for individual projects.
The conference was concluded by Barna Kovács from the BIOEAST initiative, who especially emphasized the need for support structures between the scientific community and state agencies and the possible supporting role of BIOEAST working groups in the preparation of SRIAs.
The V4 conference, will be followed by an online matchmaking event which will take place on June 29. The event is aimed at researchers and NGOs interested in participating in the upcoming calls under Cluster 6 of Horizon Europe.
You can find more information about the time schedule and event plan on our website.